---
ICHC 2005 Academic Programme
Saturday, 16 July, 2005
ISCEM (International Society of Curators of Early Maps) Kalocsa Tour !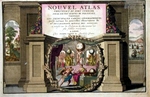 CATHEDRAL'S LIBRARY EXHIBITION, KALOCSA
Monday, 18 July, 2005
18.30 Opening the special map exhibition:
MARGARITAE CARTOGRAPHICAE:
Treasures of the National Library

in National Széchényi Library
Wednesday, 20 July, 2005
18.30 Opening the map exhibition:
EARTH AND SKY:
Astronomy and Geography at the University

in Eötvös University Library
Thursday, 21 July, 2005
18.30 Opening of a special map exhibition
MILITARY MAPS IN HUNGARY
from the 16th to the 20th century
in the
Military Historical Institute and Museum
18.00 Farewell dinner at Lazar Horse Park, Gödöllő! NEWSee more information!!!

---

Saturday, 23 July, 2005 Tour to Pannonhalma
Benedictine Archabbey, Sacred Places on Maps exhibition

Post-Conference Tour "Blue Danube"

Sunday, 24 July, 2005: Sacred Places on Mapsexhibition in Pannonhalma

Monday, 25 July, 2005: Special map tours to: Vienna Cirty Museum and the Austrian National Library, Vienna, Austria

Tuesday, 26 July, 2005 : The Danube on Old Mapsexhibition in Esztergom
---
MARGARITAE CARTOGRAPHICAE
SPECIAL EXHIBITION FOR THE
21ST INTERNATIONAL CONFERENCE ON THE HISTORY OF CARTOGRAPHY
OPEN: 19–22, JULY 2005, FROM 10 AM TO 5 PM
NATIONAL SZÉCHÉNYI LIBRARY, MAP DEPARTMENT, THE 6TH FLOOR
BUDAPEST, BUDAVÁRI PALOTA F BUILDING

by Katalin Plihál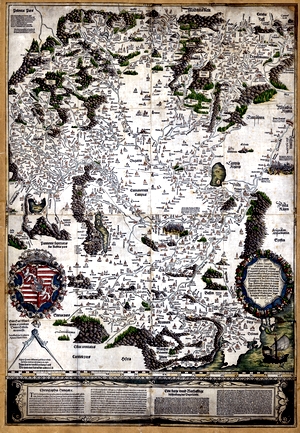 1. Tabula Hungarie ad quator latera per Lazarum …Ingolstadt, 1528.

2. Tabula Hungarie ad quator latera per Lazarum quondam Thomae Strigonien[sis] Cardin[alis] secretarium virum expertum congesta… Venezia, 1553, A. Vavassore

3. Ligorio, Pirro: Nova descriptio totius Hungariae... Roma. 1559, M. Tramezini

4. Nova descriptio totius Hungariae. Roma. 1559, [A. Lafreri]

5. Nova descriptio totius Hungariae. Roma. post 1577, Cl. Duchetti

6. Nova descriptio totius Hungariae. Roma. 1602, J. Orlandi

7. Vngariae Tanst[etteriana] descriptio nvnc correcta, et avcta Maximil[iano] II. avg[usto] opt[imo] pr[incipi] p[atri] p[atriae] dicata … [Vienna] 1566, J. Samb[ucus]

8. Müller, Johann Christoph: Augustissimo Romanorum imperatori Iosepho I …regni Hungariae … Wien. 1709.

9. Honter, Johannes: Chorographia Transylvania Sybenbürgen. Basileae.1532,

10. Lipszky, Joannes: Mappa generalis Regni Hungariae… Pesthini, 1806.

11.Coronelli, Vincenzo: Corso del Danubii de Vienna sin'a Nicopoli e paesi adiacenti. Venetia, 1690, V. Coronelli.

12. Sambucus, Iohannes: Transilvania. Sibembürgen. Vienne. 1566.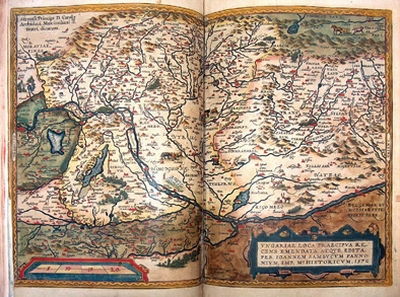 13. Lazius, Wolfgang: Des Khünigreichs Hungern sampt seinen eingeleibten Landen gründliche und warhafftige Chorographica Beschreybung … Wien. 1552–1556.
14. Fundanus, Nicander Philippius: Nova et exactissima totius Ungariae … Roma. 1595.
15. Müller, Ignaz: Mappa geographica novissima regni Hungariae … Vienna. 1769.
16. Caert-Thresoor, inhoudende de Tafelen des gantsche Werelts Landen… Middelbruch. 1598, Barent Langenes.
17. Huber, Joseph Daniel von: Scenographie oder geometrisch. perspect. Abbildung der … Stadt Wienn… aufgenommen und gezeichnet vom Jahr 1769 May Monats, biss letzten October 1774. Wien. [1777]
18. Terrestial globe by Matthaeus Greuter. Rome. 1632, diameter: 49 cm
19. Benincasa, Gratiosus: Mappa maritime… Venezia, 1474.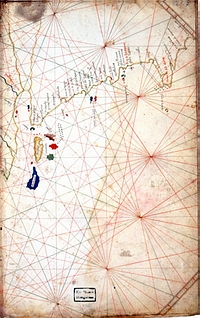 20. Bertelli, Ferrando: Civitatum aliquot insignorum, … Venetia 1568
21. Honter, Iohannes: Rudimentorum Cosmographicorum. Corona, 1542.
22. Ligorio, Pirrho: Urbis Romę, totius olim orbis domitricis, situs: cum adbus extantibus, sacrosant tę uetus tatis monumentis. Roma, cca. 1552.
23. Visscher, Claes Jansz.: De Stat Olinda de Pharnambuco, verovert by den E. General Hendrick C. Lonck, Anno 1630. Amsterdam. post 1630
24. Lubin, E[ilhard]: Nova illustrissimi principatus Pomeraniae descriptio…
25. [An IATO Atlas compiled by Ferrando Bertelli ? Venice, 1571?]
26. Terrestial globe by László Perczel. Manuscript. Diameter 132 cm.
27. Blauw, Willem Iansz.: Pascaarte van alle de Zecusten van Europa. Amsterdam, 1621 or later, printed on vellum.
28. Gherritsz, Hessel: [Zeekaart van de Indische Oceaan]. Amsterdam. 1621. manuscript on vellum
29. Gerritsz, Hessel: [Zeekaart van de Atlantische Oceaan]. Amsterdam. 1623. manuscript on vellum
30. Rota, Martino: Il vero ritratto di Zarra et di Sebenico… [Venezia.] 1570.
31. MItchell, John: A map of the British and French Dominions in North America, with the roads, distances, limits, and extent of the settlements, humbly inscribed to the Right Honourable the Earl of Halifax, and the other Right Honourable the Lords Commissioners for Trade & Plantations, by their Lordships most obliged and very humble servant Jno. Mitchell. Tho: Kitchin, sculp. [London], 1755.
32. Jefferys, Thomas: The county of York, survey'd in MDCCLXVII, VIII, IX and MDCCLXX. [London] 1772.
33. Séguin, Jean: Carte particuliere du duché Bourgogne …. Dressée et exécutée par le Sr. --- [Paris]. 1763.
34. Mappa von dem Land ob der Enns ... in dem Jahre 1781 reducirt, und in Kupfer gestochen von C. Schütz und geschrieben von F. Müller. 1787.
35. Adrichom, Christian: Ierusalemi, et suburbia eius, sicut tempore Christi floruit, cum locis, in quibus Christ. passus est: quae religios? ? Christiani obseruata… descripta per ---. Coloniae Agrippae, 1584
36. Vetter, Johann Georg: Tabula geographica nova exhibens partem infra montanam Burggraviatus Norimbergensis sive principatum Onolsbacensem. [Norimbergae.] 1719
37. Gerard, Hessel: Typus Hispaniae ab --- delineata et juxta annotationes … Andreae d'Almada... [Amsterdam] 1613,
38. Kaerius, Petrus: Italiae, Sardiniae, Corsicae, & confinium regionum nova tabula, effigies praecipuarum urbium et habituum inibi simul complectens. Excudit ---. Amstelodami. 1607
39. Péchy Imre: A Tátra hegység domborművü térképe. – Relief-Karte des Hohen Tátra-Gebirges. M. 1"=800°. Budapest, 1875,
40. [Nagy Károly]: Első magyar Földteke a' legujabb kutfők után. Metszette Biller. Bécs. 1840,
41. Dien Károly: [Éggömb.] Paris. 1840,
42. Földközi-tenger medencéjének hajózási térképe. S. l. post 1558, manuscript on vellum
---
ASTRONOMY AND GEOGRAPHY
AT THE UNIVERSITYBETWEEN THE 15TH AND 18TH CENTURIES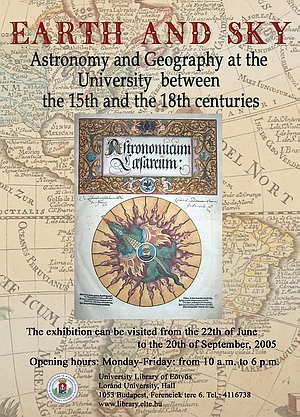 RARE COLLECTIONS OF THE UNIVERSITY LIBRARY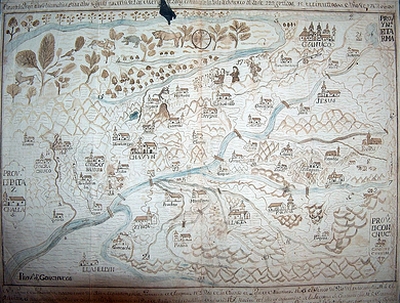 The University Library of Eötvös Loránd University is one of the oldest and even recently active public library in Hungary. Genesis of the University's library can be traced back to a jesuite college's library which was founded in 1561. The University was founded in 1635 by Pázmány Péter, the Archbishop of Esztergom, in Nagyszombat. The university and the library moved to Buda in 1777, then in 1784 to Pest. The palace of the library, where the present collection is exhibited, was erected as the first library-building in Hungary between 1873–1876. Recently, the complete stock of the University Library consists of more than 3,6 million volumes. We have 185 codices, among them one should mention first of all 14 codices of the Bibliotheca Corviniana, 1150 incunabula and 2600 old Hungarian printed books, lot of maps (printed and manuscript), valuable engravings, small-prints and several special books (first editions or dedicated exemplars). The Rare Books Department of the University Library was established in 2000. Nowadays we work on the rare's books computer database, which consists of the most important fields like signature, author, title, imprint, physical description, reference note, subjects as personal name, corporate name (especially possessors), geographic name and photos (jpg-format) for the titlepage, the binding and the manuscript note (they are available in our on-line catalogue). The Antiqua Collection (1501–1600) consists of 7200 volumes, including 9400 different works with several exemplars. Saying it proudly: our antiqua collection is the second in Hungary. During the last years we have established The Baroque Collection (1601–1700) and The Enlightenment Collection (1701–1800), which consists of about 45.000 volumes. These rare books (1501–1800) form a especialised collection for university education. Thanks to the jesuit science our library covers not only theological, medical, juristical but also arithmetical, geografical and natural science.
Budapest, July 20, 2005.
This exhibition was prepared by
Klára Boross
Farkas Gábor Farkas
Ferenc Soproni
Róbert Szvorényi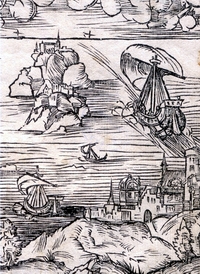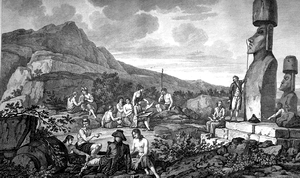 ---
MILITARY MAPS IN HUNGARY
from the 16th to the 20th century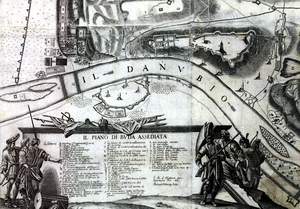 Hadtörténeti Intézet és Múzeum (Bp, 1014. Kapisztrán tér 2-4)

Organizers:

dr. Jankó, Annamária, dr. Suba, János Hegedüs, Ábel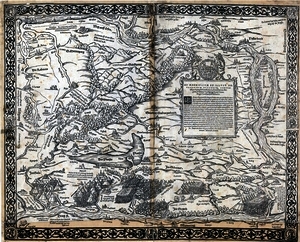 From Wolfgang Lazius: Karte des ungarischen Kriegsschauplatzes vom Jahre 1556 – to WWI maps of battle fields, plans of fortifications castles, troop map, arial photos, etc., c. 30 items.térkép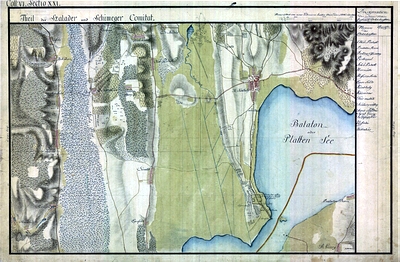 I., II., III. military survey kb. 15 maps
Hungarian maps made between WWI and WWII – 8-10 maps

---

Kalocsa exhibition the list can be downloaded from here as a PDF document!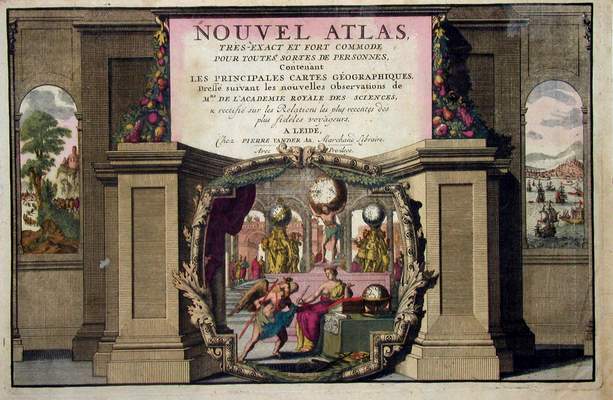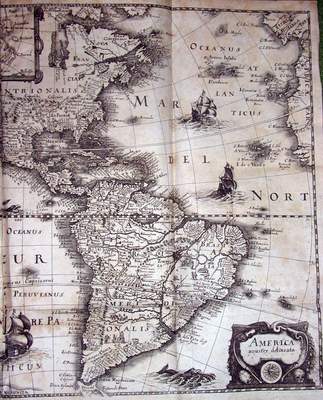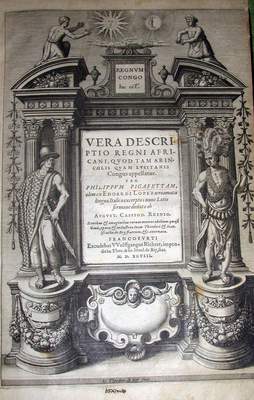 ---