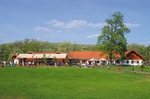 35 km from Budapest, in the heart of the rolling country of Gödöllő where the stud of the world famous horse rider Lázár boys is situated, which truely represents the Hungarian village-life. Reception with spirits and home-made scones, then horse show, carriage ride, a visit to a typical homestead and stable.

Equestrian Show: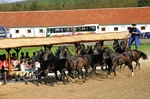 The guests arriving at the Equestrian Park are offered fresh-made leavened biscuits, pálinka (Hungarian brandy) and mineral water in the csárda's yard. After the welcome the guests walk to the stands to watch the equestrian show.
Program:
o Four-in-hand driving, pony carriage driving
o Nomad-cavalry fight show: archery on horse, lance-throwing, jumping over fire
o Virtuosity of herds-men: making the horse lie down and sit, whip snapping, herd-men's competition
o Fun competition with involvement of the guests: knocking down bottle using a whip
o Cart pulled by four oxen
o Humorous show with trained donkey
o 'Puszta-five'
o Queen Elisabeth's equestrian show in contemporary costume, riding in a side-saddle
o After the show the guests can mount the horses and participate in a pleasant carriage ride in the woods

---

After the show a walk in the Hungarian village yard where the guests can become familiar with ancient Hungarian domestic livestock breeds. (The puli dog, long-wooled sheep, grey cattle, mangalica pig, etc.)
Afterwards a visit to the World Champions' Room, where the guests can see the world and national championship cups, medals and prizes. The champion horses of the Lázár brothers' can be seen in the stables.
---
'Csikós' Menu

- Goulash soup

- 'Domonyvölgy' roasted meats offered on a wooden platter, served with mashed potatoes with bacon and onion or with whole potatoes roasted in their skins and steamed rice.
Country-style pickles (gherkins, bell peppers, coleslaw and hot cherry-peppers)

- Custard pie with hot home-made apricot preserve

- Espresso
- Neszmély cuvee dry white wine, 2004 (3 dl) – Szöllősi Mihály Vineyards
- Villány Kékoportó dry red wine 2004 (3 dl) – Polgár Zoltán Vineyards
- Mineral water