The conference was organized by Eötvös Loránd University, Budapest, with the support of the Hungarian Society for Geodesy, cartography and Remote Sensing and in cooperation with Imago Mundi Ltd. London. ICHC 2005 took place in Budapest, Hungary and was run from Sunday, July 17 to Friday, July 22, 2005. Working sessions were held in the Northern Building on the Lágymányos campus of the Eötvös Loránd University.
ICHC 2005 co-ordinator was Dr. Zsolt Török, assisted by Ms. Krisztina Irás as secretary of the ICHC 2005 Academic Secretariat. Registration, accomodation, travel and logistics was arranged by the Mrs. Ilona Módli and her Conference Secretariat staff at Aktiv Tours Kft..
The academic programme was organized with the support of the Academic Programme Committee, headed by Prof. István Klinghammer, Rector of the Eötvös University. Special thanks to Tony Campbell, Chairman of Imago Mundi Ltd. and the IM Directors who contributed to the Budapest conference.

197 participants attended the conference (USA: 45, UK: 16, Hungary: 20, European Union: 103 people), with 42 accompanying persons, the total number of conference participants is 235 (not including the organizing staff members), which is a new European ICHC record (more on ICHC statistics).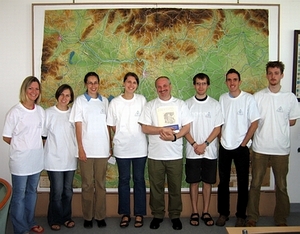 ICHC 2005 Staff

(with volunteer students, from left): Szilvia Bobák, Eszter Dombóvári, Nóra Valyon, Krisztina Irás, Zsolt Török, Gergely Somogyi, Nyerges János, János Balázs, Katalin Bite (was absent)

The overriding conference theme was

Changing Borders,

other conference themes were (1) mapping the Habsburg Empire, (2) the history of military mapping, (3) Old World - New Worlds, and (4) any other aspect of the history of cartography. In addition to the stated conference themes, the organisers have decided to invite proposals for papers that make central reference to the inspiration provided by the ideas and methodologies of Prof. David Woodward.

The papers and poster in the programme were selected by the

ICHC 2005 International Paper Selection Committee

, chaired by Prof. Roger Kain (see more).



The presentations

were organized into 21 sessions, including two discussion sessions (The History of Cartography Project, and Promoting the Use of Historic Maps in Schools), altogether 60 papers were presented (including one voice PowerPoint paper). On July 19 we had the traditional Poster Day, with no concurrent sessions, in the Harmony Hall. A total of 34 posters were presented.
Thank you for the contributors, we are especially grateful to the

session Chairs

(listed in the programme) for their excellent work!

The abstracts of the papers and posters, with a short curriculum vitae of the presenter(s) (and some illustrations) were published in English in the printed program, 'Changing Borders'.
(For a free copy of the volume please, contact the ICHC 2005 co-ordinator.)



The special workshops

organized for groups of conference participants were:

Early Map Printing Workshop

, organized by Zsolt Török (Gastaldi copper plate printing) and George Carhart (Ramusio: wood block printing, video presentation arranged by Béla Kovács, printing with the help of József Szekerka). The ICHC 2005 conference map was a new edition of the oval world map of the Gastaldi Ptolemy (Venice, 1546), engraved into coper by Zsolt Török. Workshop participants could print their own copy (more)


Plane Table Topographic Survey

, organized by Zsuzsa Draskovits, Zsolt Török, László Buga. Participants in the two morning groups were instructed by Zsuzsa Draskovits, Zsolt Török, József Szekerka, as well as our guest-instructors: Alexey Postnikov and Peter Collier.
Three map exhibitions

were prepared in conjunction with the conference:
"Margaritae Cartographicae: Treasures of the National Library" at the National Széchényi Library.
"Earth and Sky: Astronomy and Geography at the University" at the Eötvös University Library.
"Military maps in Hungary from the 16th to the 20th century" at the Military Historical Institute and Museum.
Receptions:

After the opening of ICHC 2005 and following the special exhibitions participants and guest were invited for refreshments and snacks. We are grateful for the support received from our sponsors, whose generousity made these receptions possible: the Office of the Minister President, Republic of Hungary, The Columbia Gazetteer of the World- Online, Mr. Tamás Korányi map collector and the host institutions.

The standing commission on the History of Cartography of the

International Cartographic Association

(ICA) was held on 19 July, chaired by Prof. Alexey Postnikov. This morning there was a special presentation on the history of maps of Iran, delivered by Mr. Mohammed Sahab.

On Saturday, July 16, the

International Society of Curators of Early Maps

held its biennial meeting during a special tour in the town of Kalocsa, combined with a tour and visit of the Archdiocesan Library. (more)

After the conference there was a special Blue Danube Post Conference Tour, organized for participants. Visits included the Pannonhalma Benedictine Archabbey (map exhibition "Sacred Places on Maps"), the Vienna Historical Museum, The Map Collection, Austrian National Library, (Vienna), The Danube Museum (Esztergom).

The Farewell dinner was held at Lazar Equestrian Park, Gödöllö (96 people participated).

The final

ICHC 2005 conference programme

can be downloaded from the conference web site.



Conference publications:




Zsolt Török, Krisztina Irás (eds.):

Changing Borders. Programme, Absrtracts of Papers and Posters, Curricula Vitae, and List of Participants

. ICHC 2005 Academic Secretariat, Budapest, 2005, 157 p.

Cartographica Hungarica

, No. 9, 2005. július, Térképtörténeti magazin- Magazine for Map History (Balatonkenese : Szathmáry Tibor), Különszám- Special Issue. 28 p. The special conference issueof the private magazine included the summaries of the articles published in Cartographica Hungarica (1992-2004) in English and in Hungarian, the Indexes and a short history of Hungarian cartography.

Facsimile map:

Johannes Korabinsky:

Novissima Regni Hungariae potamographica et telluris productum Tabula- Wasser und Producten Karte der Koenigreichs Ungarn- Magyarország természeti tulajdonságának tüköre,

(Vienna, 1791), with explanatory notes on 'Jonannes Korabinsky and his map', the first thematic country map, by Zsolt Török. Published and printed by the Department of Cartography and Geoinformatics, Eötvös University, Budapest, 2005. Original map size, c. 60 x 46 cm, one-colour offset print, limited edition.
Other exhibition catalogues


Török Zsolt (ed.):

Szent helyek a térképeken : térképtörténeti kiállítás a Pannonhalmi Fõapátság és a Schottenstift (Bécs) anyagából / Sacred places on maps : a cartographic exhibition from the collections of Pannonhalma (Hungary) and Schottenstift (Vienna).

Pannonhalma : Pannonhalmi Fõapátság, 2005. Introduction: Török Zs.: Szent helyek a térképeken (p.7-18)/

Sacred places on maps

(p.19-31); explanatory essays: C. Delano Smith & A. Scafi Szent földrajz (p.33-54)/

Sacred geography

Holy places on medieval maps of Palestine

(p.141-154); R.E. Hassner:'Helytelen' nevek : hogyan 'találták fel' a szent helyeket a zarándokok és a térképészek (p.71-93)/ (p.155-176); Ego sum via : keresztény utak a modern európai térképészet kialakulásában (p.95-119)/

Names without places : how pilgrims and mapmakers invent sacred placesEgo sum via : Christian itineraries in the evolution of modern European cartography

(p.177-202); Katalógus = Catalogue (p.[207]-[309]) [Biblical and religious maps, views and globes from anon. 'Tabula Peutingeriana' of 4th century AD in ed. Karacs, Buda, 1825) and 'Secu[n]da etas mundi' (etc.) in Liber cronicarum . . . of H. Schedel (Augsburg : J. Schönsperger, 1497), Ziegler: Terrae Sanctae (Strasbourg, 1536), Bünting: Itinierarium Sacrae Scripturae (Magdeburg, 1597), Adrichem: Theatrum Terrae Sanctae (Cologne, 1584). to Sieber: Reise von Cairo nach Jerusalem (Prague, 1826) and 'Palesztina : a biblai események színhelye' of Kogutowicz at scale 1:200 000 (Budapest : Magyar Földrajzi Intézet [after 1901]). Other remarkable items include Münster's 'Heydelberger Becirk' (1537), Eckebrecht 1658 world map, Nolli's map of Rome, Scherer famous Atlas Novus volumes (e.g. Atlas Marianus), Kino's report on California as peninsula etc.ISBN 963-90-5367-8
Magyarországi hadi térképek a XVI. századtól a II. világháborúig = Hungarian military maps from the 16th century to the Second World War

/

A kiállítás anyagát válogatta, a katalógust készítette: Dr. Jankó Annamária és a Hadtörténeti Térképtár munkatársai . . . = Choosing of maps of the exhibition and elaboration of the catalogue by: Dr. Jankó Annamária and colleagues of the Maproom . . .". - Lists and describes 42 MS & printed items (including aerial photogr.) Budapest Hadtörténeti Intézet és Múzeum [, 2005]. - 23p. : ill., maps (chiefly col., including on front cover) ; 17 x 24 cm. - In E & Hu.

The list of items dispalyed at other ICHC 2005 exhibitions can be found on this web page.
Thank you for the support and contribution of all who helped us in organizing this conference.
Hope we see you all again at the next ICHC conferences, next time in Berne in 2007.

Viszontlátásra!




Zsolt Török
ICHC 2005 Co-ordinator


December 31, 2005, Budapest,


---
ICHC 2005 Academic Secretariat
Dr. Zsolt Török, ICHC 2005 Co-ordinator
Ms. Krisztina Irás, Secretary

Department of Cartography and Geoinformatics, Eötvös Loránd University
H-1117 Budapest, Pázmány Péter sétány 1/A

Tel.: (36)-1- 372-2975, Fax: (36)-1- 372-2951e-mail: ichc2005@lazarus.elte.hu

THANK YOU FOR BEING OUR GUEST!