Registration and reservation:

IMCos Hungary Tour

EUR 270.00/ person (Double Room accomodation)
EUR 310.00/ person (Single Room accomodation)
Tour price includes accomodation, meals, travel, programs, visits, English-speaking guide.
Download the Registration and reservation Form and print it. Note the form should be filled in by hand and
send it by air mail or fax
to Aktiv Tours Kft. (see address details at
Contacts
)
Note:
for security reasons please, do
NOT
send the Reservation Form by e-mail.
Payment: payment can be made by bank transfer or by credit card.
Further information is on the Registration Form.
Registration fee: EUR 20.00 (the equivalent of HUF 5000) / person
Payment: in cash (HUF preferred) at registration before boarding.
Hotel in Budapest:
For participants who plan to arrive earlier or stay longer in Budapest our travel agency, Aktiv Tours offers their centrally located and convenient guest house:
Boulevard City Pension***
Located just behind the Grand Boulevard and at walking distance from the Danube, you will find a stress free area in the middle of Budapest. Boulevard City is part of a residential building close to the Petőfi Bridge on the Pest side of the city, just a short walk from the main shops, restaurants and attractions of Budapest. Metro (subway), tram and bus stops are at walking distance to give you the possibility to discover the whole city of Budapest. The building has an elevator, the airconditioned rooms with private shower/bathroom are furnished in country style. Breakfast buffet. Address: H-1094 Budapest, Angyal u. 13.
Double room: EUR 62/night
Single room: EUR 57/ night
(breakfast included in room price)
Note: offer is limited to available rooms. First come first served. Apartments with space for 2-6 persons are also available in the same building.
There are other hotels in the neighbourhood (e.g. Hotel Ramada, Hotel Sissy, Hotel Thomas). See the location map below: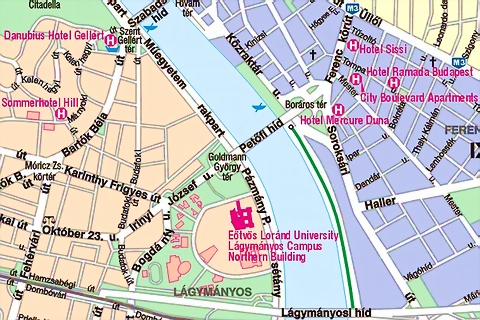 Optional programmes
may be organised by our travel agency, Aktiv Tours, before or after the IMCoS tour. Please, consult their web pages and ask for their offer.
Travel:
Participants should arrange their trip to and from Budapest.
Budapest Ferihegy Airport: http://www.bud.hu/english
Economic flight from London: easyJet Sept 05, 2008, London-Luton, 06:25 -- Budapest-Ferihegy 09:55 Sept 07, 2008, Budapest-Ferihegy, 16:50 – London-Gatwick 18:25.
Transport:
From Budapest-Ferihegy Airport take the minibus service to your hotel, e.g. Boulevard City.
For shuttle information see: http://www.bud.hu/english/transport/airport_shuttle
Meeting Point in Budapest:
Sept 5, 2008, 13.00-14.00, Boulevard City Pansion

(H-1094 Budapest, Angyal u. 13.
)
All tour participants are welcome to leave their luggage at Boulevard City.
Cancellation policy:
Refunds (minus administrative charge) may be applied for in writing to Aktiv Tours. For cancellations received after July 15, 2008
70%
, after Aug 1, 2008
50 %
of the fee,
after August 15
no refund can be made.
Insurance:
The Organizers do not accept responsibility/liability for individual medical, travel, or personal costs. You are advised to obtain insurance as required.