Download
The Programme and Tour Guide here!
(1,8 Mb PDF document)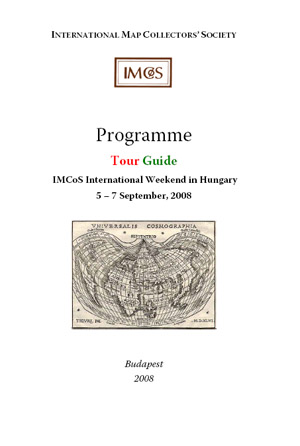 Preliminary Tour Itinerary and Programme

Friday, 5 September, 2008

10.00 Meeting with participants interested in the optional tour in Boulevard City.
10.30. Visit to the Eötvös University Library. Cartographic treasures in the rare Book Department.
12.00 Free programme in the city.
14.00 Tour starts from Budapest city. Meeting point in hotel Boulevard City.
15.00 Airport pick up for guests arriving later at Budapest-Ferihegy Airport.

Coach trip to the city of Kalocsa.

This town, situated 120 km south of Budapest on the east bank of the Danube, on a wide plateau stretching between the Danube and Tisza rivers, is known mainly for the cultivation of paprika, but its name is also synonymous with high-quality folk-art, especially in the form of the colorful embroidery to be found on textiles, walls and furnishings. In the 11th C, King Stephen I made Kalocsa the diocesan town for this bank of the Danube.
17.00 Accomodation in wellness Hotel Kalocsa****. http://www.hotelkalocsa.hu/

18.00 Walking tour in the city.

19.00 Dinner in Juca Néni Csárdája, at a typical Hungarian restaurant in the countryside.

Saturday, 6 September


10.00 Special visit of the Archiepiscopal Library, Kalocsa.
Original Baroque Reading Room; special map and atlas exhibition, short presentations.

12.00 Lunch in hotel.

14.00 Coach trip to Lake Balaton. Short stop in town centre Szekszárd.

17.00 Accomodation in Hotel Annabella***, Balatonfüred (just 50 metres from shore of Lake Balaton)
http://www.danubiushotels.com/en/hungary-hotels/hotel-annabella-balatonfured

Balatonfüred is a resort which is steeped in tradition and an important spa for heart and circulation disorders. The healing properties of the carbonated waters were recognized back in the 1730s; in 1743 the monastery in Tihany acquired the town and built a bath-house near the streams, In 1772 Balatonfüred was officially declared a spa town. Between 1825 and 1848 it became the meeting-place of the Hungarian intelligentsia of the Reform Period, and in 1831 the town council presented it with the first permanent theater to perform plays in the Hungarian language. It was from Balatonfüred harbor that the first steamship sailed on Lake Balaton in 1846.
18.00 Wine tasting in the Figula cellar

19.00 Dinner in the Tölgyfa Csárda (Oak Inn)
Sunday, 7 September
10.00 Visit to Tihany peninsula, Benedictine Abbey
http://en.wikipedia.org/wiki/Tihany

c. 12.00 Transfer to Budapest Ferihegy Airport.

13.00 Short stop for quick lunch.

16.00 Arrival at airport. Departures to various destination.

c. 17.00 Transfer to hotel Boulevard City