C

HINA

R

EGNUM

, Antwerp 1593

ORIGINAL TECHNOLOGY- Limited Edition!



Subscription:

Some colored copies are

available.

For

more information

, a

free demonstrative sample

of the product and/or

Order

please, send a message with your name and mailing address

to the Publisher.

The China Regnum Cartart FacTsimile 2002 edition is

dedicated to: Cornelis

de Jode

of Antwerp and

Steven R. Carroll

map collector and friend in Beijing






The famous Chinese 'windaggon' (wind cart)

The cornerstone of any oriental map collection, one of the rarest and most decorative early maps of China, Japan and and the Far East from the rare, 1593 atlas by Cornelis de Jode.

Total edition is limited to 99 copies!

Makes an outstanding decorative addition to the office or home and superb corporate gift to mark special events.

---

TECHNICAL Information:
Edition limited to 99 copies.


Printing plate:


hand engraved and etched original copper plate!



Printing technique: intaglio.


Copies are printed by the Publisher.





Paper: custom produced hand made paper, acid free, archival quality, deckle edged


Watermark: two OT- diagrams and 'cartart' label legible. Can not be removed.


Sheet size: c. 520 x 640 mm


Image size: c. 340 x 450 mm

Color: hand colored in contemporary style
Copies are individually numbered and blind stamped.
Custom coloring is available to request.


Note: images have been slightly distorted for security reasons.
The order of the roundels has been changed. See the wind wagon in the upper right corner on the 2002 edition!

up
DESCRIPTION of the map:
A rare and distinctive map that first appeared in
Cornelis de Jode's Speculum Orbis Terrae
, (Antwerp, 1593). This first edition of the atlas was issued by Cornelis de Jode's father, Gerard in 1578, in competition to the work of Abraham Ortelius. The second edition was published by the widow and the son, Cornelis de Jode as Speculum Orbis Terrae in 1593.
The elaborate strap work border has four round insets showing European visions of Chinese and Japanese scenes: fish catching cormorants; a Chinese junk with a chimney topped cabin and fenced in area on the side of the vessel sheltering domestic birds and fowl; a Japanese worshipping a triple headed deity; and the most famous wind wagons depicted on many early European maps of the region including those of Hondius and Speed. The illustrations on De Jode's map pre-date the famous illustrations found in de Bry's Grands et Petits Voyages and most likely derive from contemporary Jesuit reports. They provide some of the earliest detailed Western illustrations of any aspect of Chinese and Japanese life.
A central circle encloses a map of China, Northeast Asia and parts of western Japan including Kyushu, Shikoku, and most of mainland Honshu. The emergent shape of the Korean peninsula and Gulf of Pecheli (Bohai) are firsts on a European map. Note the over-sized representation of the Pearl River Estuary (perhaps reflecting its importance in trade). It is unusually well detailed: Guangzhou, Macau, Sancian (Shangquan Dao near Taishan in Guangdong) and other places are identified.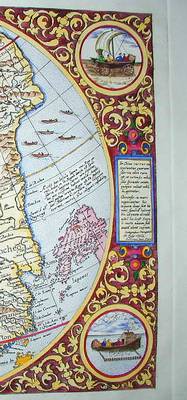 The shape of China began to take definite, if inexact, shape in the 16th century, due primarily to the voyages of Portuguese traders and Jesuit missionaries. This map first appeared in the 1593 edition of de Jode's world atlas, the Speculum Orbis Terrarum. It was based on the work of the Portuguese Jorge de Barbuda, whose
map of China appeared in the work of de Jode's competitor Ortelius in 1584.

---
CORNELIS DE JODE
(1568-1600) was the son of the map maker and publisher Gerard de Jode ( c. 1509-91), born in Nijmegen, was a cartographer, engraver, printer and publisher in Antwerp. The publisher issued maps from 1555 more or less in the same period as Ortelius. He was never able to offer very serious competition to his business rival, although, ironically, he published Ortelius' famous 8-sheet World Map in 1564.
His major atlas, Speculum orbis terrarum, now extremely rare, could not be published until 1578, eight years after the Theatrum, Ortelius having obtained a monopoly for that period. The enlarged re-issue by his son in 1593 is more frequently found. On the death of Cornelis, the copper plates passed to J. B. Vrients and apparently no further issue of the atlas was published. De Jode maps are rarely found in the map market.
---
REFERENCES:
See the image of the Presidential copy No. 1
: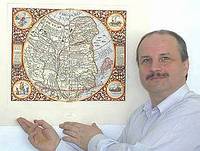 The special presentation copy was engraved, printed, colored and gilt


Dr. Zsolt Török's unique Cartart workshop in Hungary.
Reviving the traditional art of map and globe making

up

---