Description | Printing | Nuremberg Chronicle | Subscription---THE ATLAS COLLECTUS Map SERIES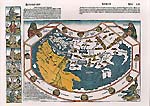 The SCHEDEL - Schönsperger World, 1493
The world map of the most famous illustrated book of the incunabula period:
the Nuremberg Chronicle of 1493.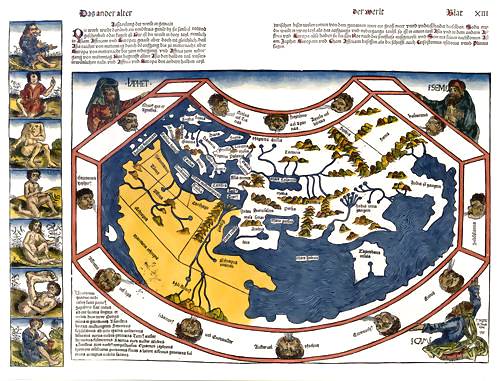 Copyright by Dr Zsolt Török, Cartart FacTsimile Publisher, 2003

TECHNICAL:
Technique: Woodcut with metal types. ( German edition!)
Special on verso:
World map of the pirated miniature edition of Schönspereger (Augsburg, 1496)
Edition limited to 99 copies.
Sheet size: 520 x 640 mm
Image size: original
Paper: special hand made, archival quality, deckle edged
Watermark: two OT- diagrams and cartart label. Can not be removed.
Color: full hand color
Copies are individually numbered and blind stamped.
Custom coloring is available to request.
Special gift: the text describing the monstrous text is relief printed on verso
DESCRIPTION:
Ptolemaic world map with the figures simbolizing the three sons of Noah's: Sem, Ham and Jafet. The world map was included in the Chronicle of the Nuremberg physician, Hartmann Schedel to demonstrate the world after the Deluge. The hundreds of the woodcuts used for printing the illustrations of the famous German work were cut by Wolgemut and Pleydenwurff. The young Albrecht Dürer could contributed to the book as he apprenticed the Nuremberg printers.
The panel to the left side, showing the monstrous races, is an illustration of the tales, fables and antique works, first of all Pliny the elder. Note that this panel is the best identification mark of our edition, there was another panel with the map of the 1493 edition.
On verso the miniature version of the world map, from the extremely rare and pirated edition of the Book of Chronicles by Schönsperger (Augsburg, 1496).
---
SUBSCRIPTION:


The map is available.


For more information, a free demonstrative sample of the product and/ or the Order Form please, send a message with your name and mailing address to the Publisher.




up