G

astaldi Vniversale,Venice 1546
The most influential Venetian Renaissance world map by


the most famous Italian map maker of the 16th century.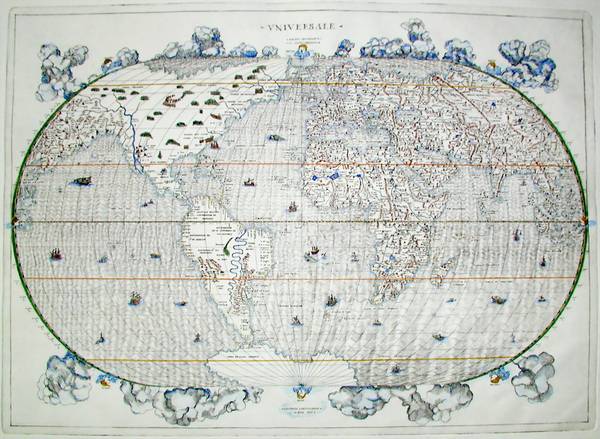 The large oval world map of Gastaldi, the most influential Venetian map publisher of the 16th century, was first printed in 1546. It was the prototype of a series of later world maps, including Ortelius' work in his atlas of 1570. Maps of Gastaldi can be found in the Italian atlases of the Lafreri school, all of them extremely rare.


The Vniversale is a foundation map of any collection, however, recently it has become apparently unaccessible in the antique market for its extreme rarity and shockingly high price (US $ 246,455 at Sotheby's 1999 autumn auction).

Shirley, The Mapping of the World, No. 85, plate 72

up

---

TECHNICAL Specifications:


Technique: intaglio printed from hand engraved copper plate


Edition limited to 99 copies. Among the rarest printed map of the world!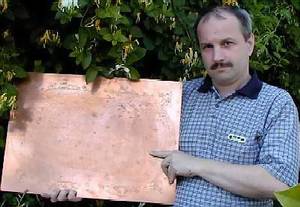 The Publisher with the new copper plate
Sheet size: c. 520 x 640 mm
Map size: c. 365 x 530 mm
Paper: special hand made, archival quality, deckle edged
Watermark: two OT- diagrams and cartart label. Can not be removed.
Color: as a Lafreri-type map it is uncolored
Custom coloring is optional extra
Copies are individually numbered and blind stamped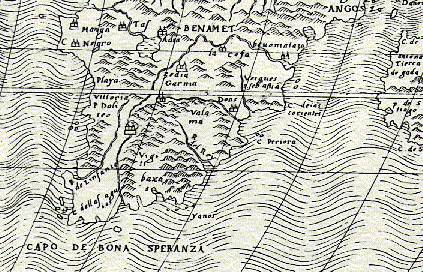 Detail of the Gastaldi Universale 1999 edition.
Approx. original size!
Copyright by Dr Zsolt Török, Cartart FacTsimile Publisher, 2002
up

---
Giacomo (Jacobo, Jacopo, Giacopo) Gastaldi, the most famous of the 16th century Italian map makers, was born in a prominent Piemont family. The first record of his life was taken, however, in 1539 in Venice.
Master Giacomo 'Piemontese' worked in this city as editor, printer, engraver and engineer. He was a reputed cartographer, called the cosmographer to the Republic. His first map was printed in 1544, and in two years he published his first world map, the influential Universale, which was published in many editions later, first in that year by de Jode in Antwerp.
Forlani published later the map in two versions (1560, 1562). The next publication of Gastaldi was a large map of Hungary and the countries surrounding it (1546), but his name is best known for the publication of the cosmography of Ptolemy in 1548.
More than a hundred influential 'Lafreri-type' maps were published by Gastaldi until 1566, when the greatest Italian map maker of the century died.
---
Subscription:
The map is still available in limited number, copies are printed to demand.
For more information, a free demonstrative sample of the product and/ or the Order Form please, send a message with your name and mailing address to the Publisher.
up