Description | Printing | Father Coronelli | Subscription-----------

The

Coronelli America,1688
The large, two-sheets, spectacular map of the most famous Venetian


globe and map maker Coronelli, with California as an island.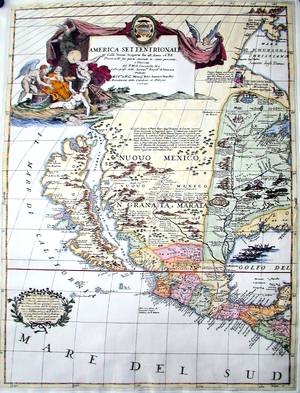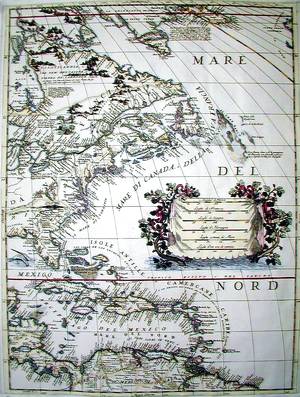 Copyright by Dr Zsolt Török, Cartart FacTsimile Publisher, 2003
---
TECHNICAL:
Technique: intaglio
printed from hand engraved and etched copper plates
(Two sheets!)
Edition limited
to 99 copies.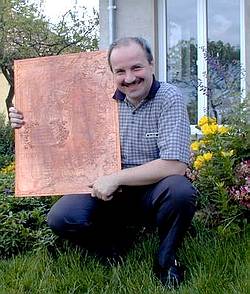 Sheet size
: c. 520 x 640 mm each
Image size
: original
Paper
: special hand made, archival quality, deckle edged
Watermark
: two OT- diagrams and cartart label. Can not be removed.
Color: hand colored by our colorist
Custom coloring is available to request. : Baroque color, Rococo color, full or outline color. See samples above!
Copies are individually numbered and blind stamped.
---
SUBSCRIPTION:
The map is still available in limited number, copies are printed to demand.
For more information, a free demonstrative sample of the product and/ or the Order Form please, send a message with your name and mailing address to the Publisher.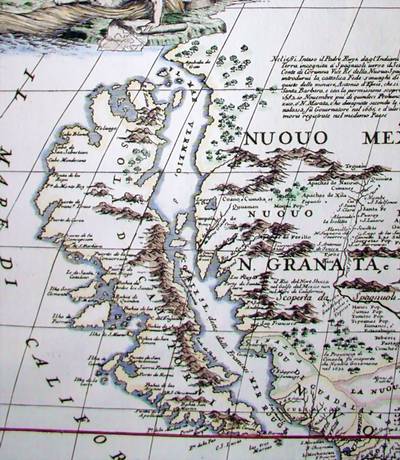 up

---
DESCRIPTION:
Father Vincenzo Coronelli(1650-1718), map and globe maker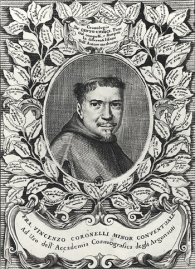 The most famous globe maker of all times was born near Venice in 1650 and entered early the minorite order. As a talented young monk he was sent to Rome and after his return to Parma he made a large manuscript globe for the local prince. It was the beginning of the career of the globe maker. Having seen the work, Cardinal D'Estee commissioned him to build the largest and most wonderful globe for the king of France, Louis XIV.
Coronelli moved to Paris, where he directed the work on the giant pair of spheres, the king Louis XIV terrestrial and celestial globes with a diameter of almost 4 meters! He finished the work by 1683 and was awarded with a golden medal by the king. The globes, however, were transported to Marly and not Versailles, and remained there for a long time. (Today there are on display in the Pompidou Centre in Paris.) Coronelli, became a most reputed cosmographer of his age.
He returned to Venice and founded the world's first geographical society, the Accademia degli Argonauti. The first publication for this exclusive group of highly reputed and powerful aristocrats was the printed version of the large Paris globes. Coronelli set up a workshop in his monastery in Venice and started to work on the c. 110 cm diameter globes. The new edition of this masterpiece was produced by original technology (!) in 1996 in our workshop...
In 1688 the first copies of the terrestrial globes were presented to the Venetian Doge, and Coronelli became the the publisher of the largest and most decorative globes ever printed. The globe gores were published later along with the hundreds of maps and views in the most ambitious cartographical project under the title Atlante Veneto from 1693.
The Coronelli Globe Project: 42" traditional technology terrestrial globe from our workshop!

up