László Almásy: The real English patient
---
László Almásy (1895-1951) first drove a car along the Nile into the Sudan in 1926, and returned for experimental shorter journeys in the following years to demonstrate the hardiness of Steyr cars. In 1929, as a prelude to his later desert expeditions, using two Steyrs he penetrated East Africa, the Sudan and Egypt. Rudi Mayer, an Austrian filmaker made a documentary of the 12 000 km long and adventurous journey. The negative material was found and restored by his son, Kurt Mayer, who presented the 110 minutes long silent movie last year. This documentary film offers an exceptional visual experience with real African scenes from the late 1920s.
(Summary of the paper published in Hungarian in the Hungarian Geographical Society's Journal, Földrajzi Közlemények, Vol. CXXI., No. 1-2, pp. 77 - 86.)

---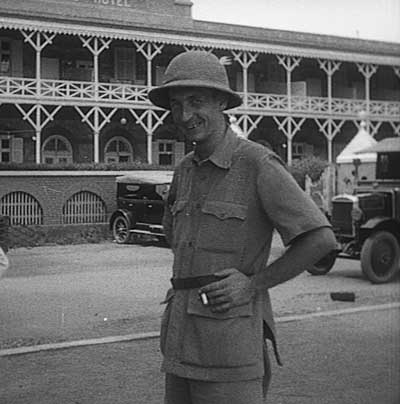 László Almásy in front of the Khartoum Grand Hotel in Sudan
(Pictures are from the 1929 documentary film by kind permission of Kurt Mayer.)
---
Dr. Zsolt Török is an Almásy - researcher, who was born in the Hungarian town where the explorer lived during the 1930s. He has spent twenty-five years trying to put together the life of the legendary person. He published his first study on Almasy in 1989 and became on expert in the field, he was interviewed by The New York Times and several other newspapers and televisions in Hungary and abroad. He is working on a documentary with Kurt Mayer and he is writing his book that will presents surprising and never published facts of the real "English" patient, whose real life is certainly more than one novel.
Copyright by Dr. Zsolt Török, 1997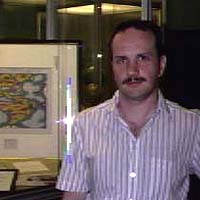 ---
---
Back to the Department of Cartography!