Children Map the World: Selections from the Barbara Petchenik Children's World Map Competition.

Anderson, J.M., Atwal, J., Wiegand, P.A. and Wood, A.A. (Eds.) (2005)
Redlands, CA: ESRI Press.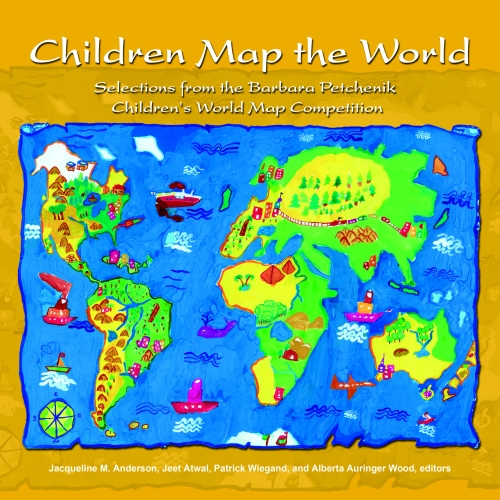 "Children Map the World"
Children Map the World: Selections from the Barbara Petchenik Children's World Map Competition presents one hundred favorite drawings submitted by children from around the world. This is an imaginative collection by young artists ranging in age from five to fifteen that reflects artistic, cultural, social, and cartographic awareness. In these drawings, young people express their hopes, wishes, and fears for their world. The images show young people's enduring interest in maps and the excitement to be had from them.
For children, parents, and teachers, these drawings will inspire and delight. The International Cartographic Association (ICA) created the Barbara Petchenik Children's World Map Competition in 1993 as a memorial for Barbara Bartz Petchenik, a cartographer who studied how children comprehend maps. To date, thousands of children from fifty-two countries have been involved in this competition.

The book, published by ESRI, was very well publicised at their User Conference in San Diego (2005, July). In his opening speech, Jack Dangermond spoke about the book against a backdrop of children's maps projected on large screens. In the "Map Gallery" located on the top floor of the Convention Centre they had a spectacular display of the maps from the book. The main title of the display was "Maps of our Children's World" with sub-groupings of the maps under topics such as Cartographic Representations, Our Changing World, and Children's Awareness of Their Environment etc.

At the "Meet the author" book signing event, Jeet Atwal from Carleton University represented the editors of the book.

Proceeds from the sale of this book will go toward graphic literacy promotions that target developing countries and disadvantaged learners. Available in June 2005 from ESRI Press, or at better bookstores and online retailers worldwide, for $24.95. More information about the book can be found at: http://gis.esri.com/esripress/display/index.cfm?fuseaction=display&websiteID=92&moduleID=0

A screen saver using images from the Barbara Bartz Petchenik competition may be available soon.